6 Ways to Remove your Old Furniture Before Moving
Old Furniture Removal Near You
There comes a time when you need to transform your home. You may want to move to a larger or smaller space, so you must remove your old furniture. Sometimes you want to make a complete makeover to your home to give it a new look. Whatever the reason, there is always the question of where to put your old furniture.
Furniture takes up a lot of space in the house, and it is not so easy to throw it away with the garbage. The disposal requires some consideration. Luckily, we can share a few good ideas when it comes to the removal of your old furniture.
Depending on how quickly you want to get rid of it, you can opt for one of the following six ways:-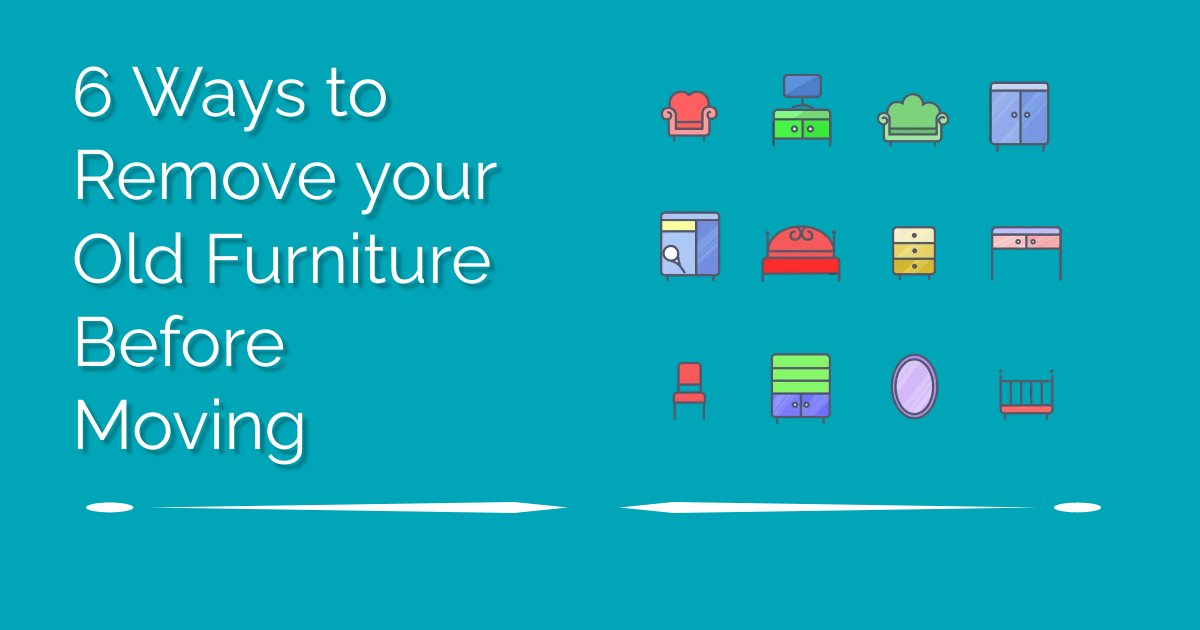 1. Donate Your Old Furniture
If you're considering removing old furniture, you might consider donating it for reuse instead of trashing it up. Giving your furniture a second life by donating it is good for the environment; even better, it's going to someone who needs it. You can choose to have it delivered to the donation centre or venue or pick it up at any time. Several places appreciate the gesture and would love to get your old furniture off your hands. Some charities are also happy to accept your old furniture, and you will have put your old furniture to good use. Think of all the homeless shelters and thrift stores that would be happy to have your old furniture.
2. Organize a Garage Sale
Organising a garage sale is the best way to cut down on most of your moving supplies and still put some good money in your pocket. A garage sale is perfect if you have a lot of other things to sell besides your old furniture. But you have to take time to organise the event properly, promote it, and make the event attractive. Separate the pieces of furniture you no longer need and take the time to clean them, so they look decent Prices of used furniture in your area to get an idea of ​​their value. Organise all household items that you no longer need, including your furniture, for a garage sale. Once you've made your mind up, you can also use online platforms to spread the word about your garage sale.
Follow the steps below to reach your Garage Sales Goals.
Choose a Suitable Time For Your Garage Sale: It has been observed that a bright Saturday on the first weekend of the month gives the best result for garage sale events.
Publicize Your Event: Spread the Word About Your garage sale event. Tell your friends, colleagues, and neighbours about your sales event. Use social media platforms to spread the word about your garage sale. Place an ad in the local newspaper about a week before the event and place signs in strategic locations.
Prepare Your Things: Get your stuff in top shape before the event. Clean and polish them if necessary to make them more attractive to buyers.
Make Your Location Safe and Attractive: Prepare the place for the garage sale to be safe and beautiful. Look around the area and remove obstacles and dangerous objects. You can hang balloons and play soft music.
Be Ready to Negotiate: Remember that your main goal is to remove your old furniture and other household items that you no longer need. So be prepared to negotiate the asking price because profit is not your primary goal.
3. Give Your Furniture to Family and Friends
If you cannot sell some unwanted possessions, consider talking to your friends and family members who might be interested in having them.
Please take a picture of the stuff, email it, or post it to your friends and the groups you belong to via WhatsApp.
Chances are, you will find someone who will be lucky to have them. While this method won't bring you any money, it will save you the cost of transporting unneeded items. You don't have to clutter your new home with unnecessary things.
4. Rubbish Removal Services
If you consider removing your old furniture, you can let someone else collect it and dispose of it on your behalf. Several rubbish removal n services in your area will be happy to order your old furniture for a reasonable price. You take care of everything; you must make an appointment for pickup and share your location with them. You will do the rest; Some recycle while others donate the items given to them.
5. Ask If You Can Haul Away Your Old Furniture
Sometimes when you order new furniture or large appliances, the company that delivers your furniture can pick up your old furniture free of charge. So once you've chosen your new furniture, ask them if they have a return option for old or used items. They may save you the trouble and hassle of looking for a way to remove your old furniture.
6. Schedule a Curbside Pickup
Depending on where you live, you may be able to access free curbside pickup of your used furniture. Find out who your waste disposal company is and give them a call. Typically, in many neighbourhoods, you get one free curbside pickup per year for bulky items like dressers, closets, entertainment centres, etc. You must have realised that getting rid of your large furniture might not be as easy as you thought. That's why you shouldn't wait until the last minute, sell or donate things you no longer need in good time.
Don't leave your used furniture on the curb without arranging a curbside pickup. You can be fined if you litter your street. Ask your neighbours or contact the disposal company. If all other options fail, carry them to the landfill.